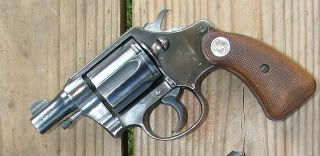 If you want a good way to start a fight (if not an intramural knife fight to the death over a foreign minister's wife!), just ask a collection of gun nuts, firearms fanciers or people who take responsibility for themselves, "What's the best carry gun?"
It is a great way to while away the hours!
Essentially you want a pistol that carries like a bitsy Beretta .25, hits like a .30-06, is accurate like a Pardini .22 rimfire match pistol, and is as reliable as a hammer. (And not just any hammer, but something like an
Estwing Sure Strike
solid steel hammer.)
Today, thanks to the genius of the market (and as an entirely unintended consequence of the high capacity magazine ban enacted under Bill Clinton), there is a broad variety of handguns eminently suited to personal protection, and handgun ammunition has benefited,and massively, from brilliant designers attempting to build a better bullet.
If there is a down side to these new and probably better options, it is that they tend to appeal to our cupidity for newest-fastest-lightest-polymerest-differentest. Sometimes new junk crowds out old classics.
The revolver pictured above is one of those old classics, and it remains the pistol I have carried most often. It is a Colt Cobra, in essence an aluminum alloy framed version of the famous Detective Special. Humphrey Bogart carried many a Detective Special (and its longer barreled brother, the Police Positive Special) in films noir in the 1930s and 1940s.
The
precis from Wikipedia
is an accurate description and summary of the Cobra. It is a light weight, six shot revolver. It is somewhere between Smith and Wesson's "carry revolvers" on the J frame and K frame in size. To my hands, the J frame is too small, the K frame is a little bit big, and the Colt D frame is just right for a six shot .38 Special. (The Colt D frame is close enough in size to the Smith and Wesson K frame that speedloaders for the two are interchangeable.)
My version from the 1950s has a slightly shorter ejector rod, and slightly smaller sights, than my early 1960s version, but the sights are still sharp, distinct, and dialed in for standard 158 grain .38 Special ammunition. If you pull the trigger without moving the sights, the sights will be dead on with this handgun load. The trigger pull stacks slightly towards the end, but is smooth, and well suited to my handgun shooting preferences. I find I shoot better with a long smooth trigger stroke, vice a short crisp trigger stroke, which is only proof once again that I am a weirdo.
For me, it carries easier than a modern, double stack autoloader of about the same size, something to do with its dimensions and where its thick, and where its thin. It is more accurate than I am, and when I maintain a modicum of practice I find it an easy revolver to shoot quickly and accurately.
In places, the bluing on the frame is worn. Where the bluing is intact, it presents a finely polished finish that will never again be offered on a standard production handgun, and the grip frame and topstrap are matte blued to provide a pleasant, and subtle, two-tone effect.
It does not have tons of power, nor oodles of bullets. It is a defensive firearm, almost purely. It is a tool for a free man to have, with which to defend his life, his liberty, and his God-given, inalienable rights.
Me?
I like it just fine.